Good Day, Gentlemen….. I knew the title of this post would bring you in for a closer look. Or perhaps, you only stopped by to read the articles….like husbands told their wives about Playboy Magazines. A very smart lady gave me a tip for the stock market today. She advised me to buy shares in Hooter's stock. It appears that, the men who lied about Playboy are now going to Hooter's to watch the football game BECAUSE they have a big screen TV. Sure, I will act like I believe these men. It is wonderful to know that some men exist that are still normal in my world.
You will notice the first picture is the 2009 issue of SI. Remember, a lot has changed in 10 years. Oh, my…so much has changed.  Let's scroll on down,  to the new model for this year's  2019 edition of Sports Illustrated Swimsuit Edition. This is not a joke…google Halima Aden if you have any doubt.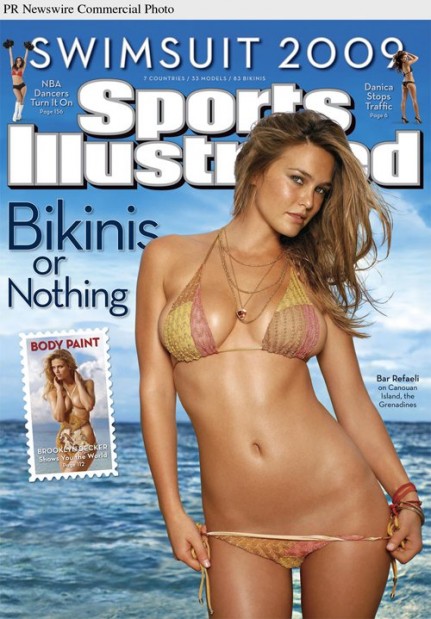 Here she is, Fellas. Ain't she a Darlin' ? Three cheers for DIVERSITY. Your new muslim dream come true swimsuit model. As you know, here at Tolley's Topics, I share all the facts as they are submitted to me. I am like MSM and Congressional Democrats…your story does not need to be true, logical or factual. You just leak your story to me, I send you a big, fat check and you will be featured on Sixty Minutes this coming Sunday night.
The story I have heard so far from my Confidential Anonymous Sources is:  Starkist found her trapped in a tuna net and submitted her as a new species. They were told that this is definitely NOT a new species, because now they are found all over America, often in huge colonies. In fact, some have even been elected to congress.
Quit starring, Fellas…Scroll on down with me and I will tell you about the entertainment we will be having tonight.
I am sure you are aware that we try to be fair and DIVERSE in our competitive games here at TT.
In the  HUGE room to the right, you may enjoy some alcoholic beverages and the dancing of some beautiful, scantily clad young women. Please feel free, as usual, to put dollars in their garters.
We realize that the atmosphere of this room gives an edge to non-muslim swimsuit models. BUT…settle down…….
In the small room to the left, you may enjoy a game of Strip Polka with this years model.
This makes my games totally fair…because….
"THERE IS NO WAY YOU WILL WIN A SINGLE GAME. BECAUSE…YOU WILL NEVER LIVE LONG ENOUGH FOR THIS WOMAN TO LOSE ALL HER CLOTHES. PLEASE FEEL FREE TO PUT DOLLARS IN THAT HIJAB/DIAPER ON HER HEAD…THAT IS THE LAST THING SHE WILL EVER TAKE OFF."
-Sheila Tolley-