WRITTEN BY: SHEILA TOLLEY
How do you like Communism so far?  Like me, you probably thought it would take some kind of congressional action to eliminate our Freedom of Speech. WRONG!
We now know all it takes is an agreement between….and millions of $$$$ from Covid China, Social Media and MSM to displace a president, take control of the senate and dissolve our constitutional rights forever.
Your new Gods will be Twitter, Instagram, Facebook, Google, Amazon, Apple, etc. If not, you can just SHUT UP because: You have no voice. You have no opinion. You have no vote.
Or at best, you have a voice that will be silenced, an opinion that does not matter and a vote that will not be counted.
This decision has been in the making for a while. You can rest assured the Master Plan started when  Donald Trump whipped Hillary Clinton's Crooked  Ass in 2016.
Donald Trump started Making America Great Again and even more people who love America had the audacity to become Trump Followers. We all know that Trump drew massive crowds while Joe Biden could not fill a booth at McDonalds.
Our Freedom of Speech is only the beginning, my friends. Do you remember when Bitch Hillary Clinton said out loud that "taking guns was not necessary because all she had to do was eliminate access to ammunition?"
I can at least close this post on a positive personal note:
I HAVE NEVER BEEN A DEMOCRAT. I HAVE ALWAYS VOTED REPUBLICAN.
NOW, I AM A TRUMPLICAN.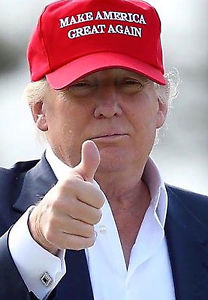 He fought for America and we must continue to fight for him.