WRITTEN BY: SHEILA TOLLEY
Nancy Piglosi is very concerned (yeah, right) that President Trump is taking hydroxychloroquine. The medicine has been approved for assorted ailments since Ruth Bader Ginsberg was knee-high to Kim Jong Un.
Piglosi stated that Donald Trump is Morbidly Obese.
Piglosi's opinion is obviously insignificant since she was previously diagnosed with being Terminally Stupid. It appears that Piglosi herself had requested the same pills from her physician, Dr. Feel Good. She became very upset when he would not prescribe her the medicine.
Dr. Feel Good explained to Piglosi that since she is already an alcoholic and addicted to several drugs, he would not feel safe giving her the prescription. He then reminded Piglosi…
"I have been telling you for thirty years that you need to quit taking the Botox injections. I reminded you ten years ago that you would look like Jack Elam if you did not slow down on those shots. Just look at yourself, Nancy… Jack Elam looks better than you do now, and he has been dead for 17 years."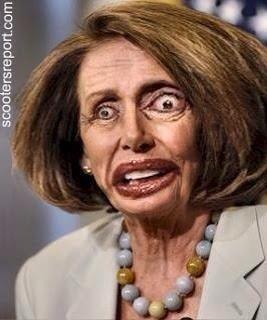 *
*